Young Adults
The Young Adult Ministry of Temple Baptist Church (20's-30's) is committed to making disciples of all nations. Our desire is to see every Young Adult: 1) mature in Christ, 2) live on mission in the home/workplace, and 3) be equipped to do "the work of the ministry." To accomplish this goal, we provide several opportunities for education and discipleship of young adults. On Sunday mornings, we offer Young Adult Sunday School classes at both 9 a.m. and 10:30 a.m. (see below for more details). During the school year, we offer several small-group Bible studies on Wednesday nights and other week nights. More information on each of these weekly offerings is listed below. We would love for you to come grow with us and join what God is doing in our Young Adult ministry here at Temple!
Sunday School Classes
**Sunday school is returning on August 2nd! Several classes have changed teachers/locations, so please check the updated list below. For a campus map with room numbers, click here.
9 a.m. Sunday School Classes:
Young Adult - Sullivan is a new class for young couples: dating, engaged, or newlywed. The class is led by Scott and Robin Sullivan, and meets in Room 250.
Young Adult 1 is for couples who are engaged or newlywed, and they meet upstairs in room 251 in the Gathering Space. Ryan and Angelle Campbell are the directors, and the class is taught by Jim and Margaret Davison.
Young Adult 2 is a mixture of all young adults in various stages of life (singles, married couples with kids, and married couples without kids). The class is taught by George Lee and Brandon Williams. They meet upstairs in Room 216.
Young Adult 4 is for couples with preschool and grade school kids. Gabe Hogan is the class director, and the teacher of the 9 a.m. class is Daniel Reynolds. They meet in Room 215 upstairs.
10:30 a.m. Sunday school Classes:
Young Professionals is for single young adults who have entered the workforce (post-college or no college). Jody and Emily Adams are the Directors, and the class is taught by Jordan Armentrout, James Davison, and Hagan Cupples. They meet in Room 252 just outside the Gathering Space.
Young Adult 3 is for couples starting a family with young children. They meet in Room 251 upstairs just outside the Gathering Space. The class is led and taught by Tim and Jennifer McCarthy, Jody and Ashley Smith, and Catrina Willis.
Young Adult 4 is for couples with preschool and grade school children. They meet in Rooms 214-216 upstairs. Gabe Hogan is the class director, and there are four classes that meet in this department at 10:30 a.m.: the Barham/Williams Class, the Waller Class, the Kilpatrick Class, and the Simmons Class.
Young Adult 5 is for couples with grade school children. The class is led by Matt and Garson Woodard, and they meet upstairs in Room 233 in the gathering space.
The Moms class is for single moms desiring community with other women. They meet in Room 70, and are led by Sonja Walker.
The Internationals class is for international students/graduates. They meet in Room 250, and are led by Ben and Hannah, Eddie and Kimberly, and Kevin and Sheri.
Discipleship Group Interest Form
D-Groups are gender-specific groups of 4-5 people, who read the Word together, journal, memorize Scripture, and meet weekly for one calendar year. New D-Groups will be forming in September of 2020. The best way to "sign up" for a group is to fill out the D-Group Interest Form, found here.
Marriage Counseling
Interested in pre-marital or marriage counseling? We use the SYMBIS assessment to counsel couples who are preparing for marriage or are already married (click here for more info about SYMBIS). Send an email to to set up an initial appointment!
Weekly discipleship opportunities for Young Adults
Young Adult Worship
During the Summer of 2020, we will gather for worship at 7pm on the following Tuesdays: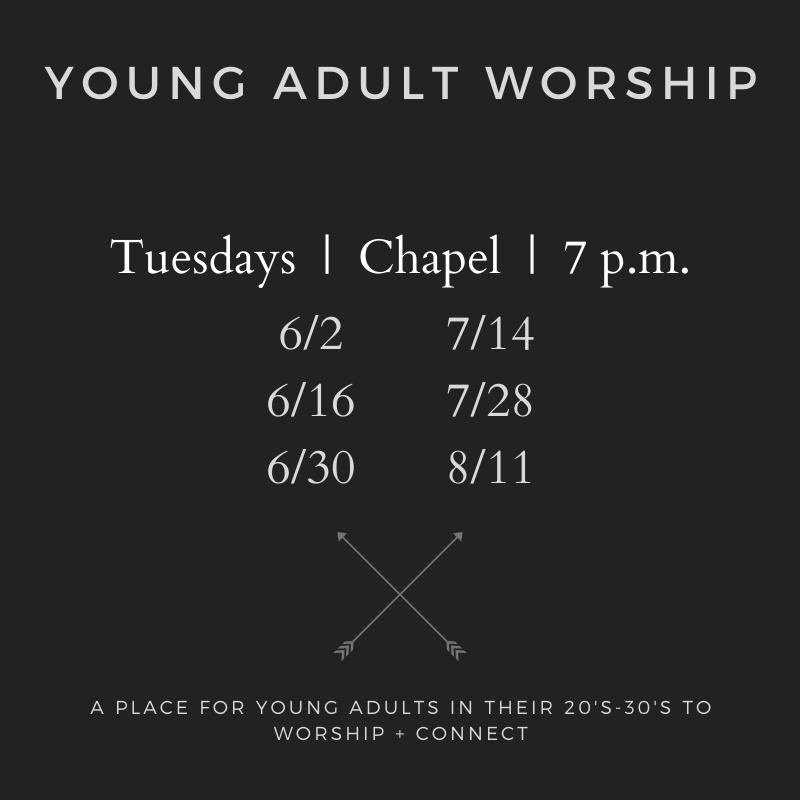 Financial Peace University
Take control of your money with Financial Peace University! This nine-lesson class uses biblical wisdom and common sense to help you tackle budgeting, pay off debt, and make your money work for you! You can sign up for this class and start your 14-day free trial of Financial Peace at fpu.com/1118675. Classes will start on Wednesday, August 26, and occur every Wednesday until October 28 (one make-up week is included).
Upcoming Events
Lifeway Women LIVE Simulcast
After months of social distancing, it's time to gather the women from your church, small group, or community for the first-ever LifeWay Women LIVE Simulcast. One full day of practical study with your favorite authors in a gorgeous setting, where women, unapologetic and unshakeable in their pursuit of Christ, can come together. Join us Saturday, August 8! Register here.